Special guests: Norihiko Hibino // Inon Zur
Faculty roster: Alison Plante // Clint Bajakian // Paolo Tortiglione // Diego Ricchiuti
Recording artists: mdi ensemble
Program Director: Paolo Fosso
---
Norihiko Hibino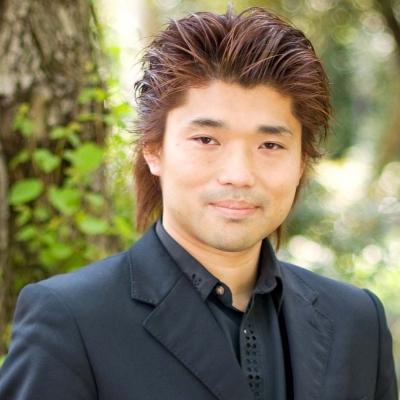 Saxophonist, composer, video game musician, and developer of therapeutic applications of music, Norihiko Hibino is best known for his work on the Metal Gear Solid and the Bayonetta series, Zone Of The Enders, Yu-Gi-Oh, Ninja Blade, Yakuza 2, Ace Combat: Assault Horizon, Shinobi 3D, and Persona 4, as well as composing for anime, websites, and other musical projects. Born in Osaka, Japan, in 1973, Hibino went to Berklee College of Music to pursue a career in jazz saxophone. After graduating in 1997, he began performing solo in Kansas City, Missouri, but veered into composing for video games after returning to Japan.
After working with Konami, Hibino started his own company, GEM Impact, which is a studio consisting of composers Takahiro Izutani, Yoshitaka Suzuki, Takahide Ayuzawa, and himself. An additional part of GEM Impact is GEM Factory, an in-house record label which has put out the debut album of The Outer Rim and the Ninja Blade soundtrack. In 2009, Hibino founded Hibino Sound Therapy Lab, which explores ways to use music as therapy. One of its projects was Prescription for Sleep, an iOS application that uses music to help users fall asleep. In 2016, Hibino cowrote the score for the animated short, Sinmara Saga, with composer Dale North.
Under the GENTLE LOVE moniker, featuring himself on saxophone and pianist Ayaki Sato (AYAKI) on piano, he published several albums including the Hibino Sound Therapy Lab Sound Library and Prescription for Sleep Volume 2. Hibino recorded solo harp, chamber groups, and GENTLE LOVE to amass a library for his new therapeutic sound system called the RINSHU, which is a hand-carved sound system crafted by woodworkers in Japan in the likeness of a yacht. The system was released in Japan in 2014 and was patented and released in the United States in 2015.
After the earthquake and tsunami in Japan in 2011, Hibino and AYAKI toured the affected areas, performing free concerts to help victims of the disaster. This resulted in the creation of the Music in Heaven spiritual care events which have taken place all throughout Japan, combining musical performances, conceptual footage displayed on a large screen above the stage, and a wellness event. Music in Heaven, which began in 2013, celebrated 50 performances in 2015, and is still being regularly scheduled throughout Japan.
---
Inon Zur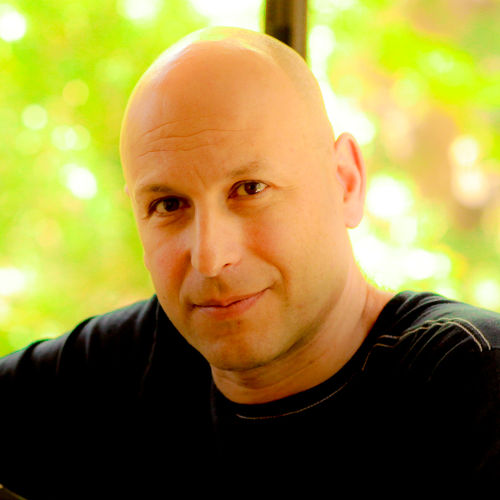 Emmy award-winner and three-time BAFTA nominated composer Inon Zur is internationally renowned for his emotionally dynamic original music scores for film, television and blockbuster video game franchises such as the Fallout series, Dragon Age series, and Prince of Persia series.
Recognized worldwide as one of the most innovative and successful composers in the industry, Inon's best-selling soundtrack for Fallout 4 has been described as "sophisticated and atmospheric" (Classic FM) and celebrated as one of the best original video game scores by the British Academy of Film and Television Arts, The PlayStation Awards, The Game Awards, Spike TV, FACT Magazine, Paste, and Classic FM. Most recently his original score for Fallout 76 was released to universal praise, described by critics as "Superbly atmospheric music" and "An amazing ambient soundtrack," while Game Informer (the world's #1 video game magazine) hailed the score as "The best soundtrack for the series yet."
Inon's latest scores include new music for Fallout 76 (Wild Appalachia, Vaults, Nuclear Winter and Wastelanders) and an original score for The Elder Scrolls: Blades, the mobile installment of the hugely-popular The Elder Scrolls video game franchise, which was premiered live at the "War Child UK Presents Bethesda Game Studios in Concert" at London's Hammersmith Apollo. In addition to his iconic music in video games, Inon has been providing critically acclaimed scores for film and television, including the EMMY winning documentary Saber Rock as featured on CNN and the suspense thriller Reclaim for Lionsgate.
Classically trained with a flair for powerful, melodic orchestral writing, his music is also celebrated in the concert world, having had his works performed in Los Angeles, London, Cologne, Leipzig, Malmo, Seoul and Sydney. He has produced and collaborated with artists including Florence + The Machine and recently signed to Sony Music as a recording artist with his debut major label album release Into The Storm.
---
Alison Plante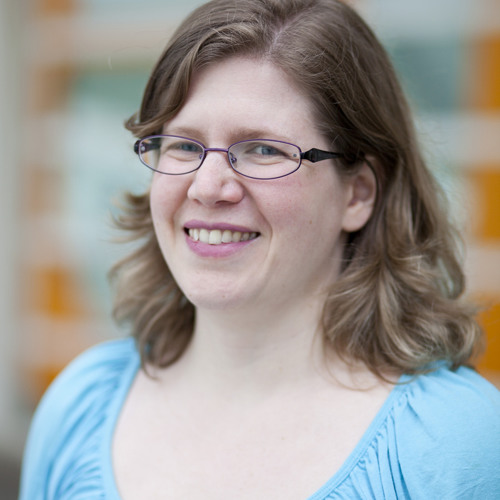 Chair of Film Scoring at Berklee College of Music, Alison is an award-winning composer whose scoring credits range from documentaries for PBS and the History Channel to national television ads, independent films, multimedia museum exhibits, and live theater.
Her scoring credits include seven educational television series for the Annenberg Channel; History Channel specials Bible Battles and Aftershock: Beyond the Civil War; documentary feature American Meat; national TV spots, trailers, and corporate identity music for Duracell, Kodak, Sodexho, Spalding Sports, W.B. Mason, GMAC, Animal Planet, the National Geographic Channel, and the Pan Mass Challenge, among others.
Other credits include live action and animated shorts, theater (with a speciality in puppetry), and multimedia museum installations for the Smithsonian Institution and the Harvard Museum of Natural History.
---
Clint Bajakian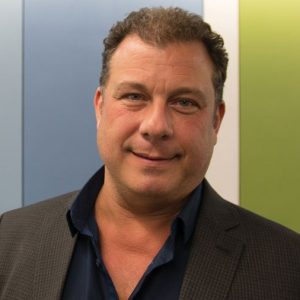 Clint Bajakian is a composer, producer, and manager of video game music with credits on over 200 titles since 1991. Recipient of the 2013 Lifetime Achievement Award from the Game Audio Network Guild, Bajakian has been dedicated to the advancement of video game audio and advocacy for its professionals, innovating adaptive scoring methods in workflow, project management, team leadership, and education.
In 2012, Square Enix bestowed Bajakian an Award for Special Achievement, recognizing him as "one of driving forces in evolution of VG music." In the following year Bajakian received the Distinguished Alumni Award from the New England Conservatory of Music. From 2004-2013, he led the music production team at Sony PlayStation, developing methodology, managing projects, and supervising soundtracks with leading orchestras throughout the world, including God of War and Uncharted franchises.
From 2000-2004, Bajakian managed his own company Bay Area Sound, producing the original score for LucasArts' Indiana Jones and The Emperor's Tomb receiving G.A.N.G.'s Music of the Year. Throughout the 90s, he co-led LucasArts Entertainment's audio department in composition and sound design on such properties as Star Wars, Indiana Jones, Outlaws (original score won Outstanding Achievement Award from Computer Gaming World magazine), Grim Fandango, and Monkey Island.
In 2014, Bajakian composed for Blizzard Entertainment's World of Warcraft: Warlords of Draenor, which won the HMMA award for Best Video Game Soundtrack. After two years with Pyramind Studios in original music and team development, in 2015 Bajakian joined the San Francisco Conservatory of Music faculty in the Technology and Applied Composition department, and entered business as an independent composer. Bajakian holds a double Bachelor of Music degree from the New England Conservatory in Guitar Performance and Music Theory, and a Master of Music degree in Music Composition from The University of Michigan. Clint resides in the San Francisco Bay Area with his wife, Deniz, and two children, Lara and Deren.
---
Paolo Tortiglione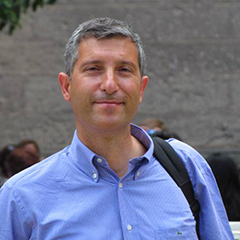 Paolo Tortiglione is Professor of Film Music and Applied Technology at the Conservatory of Milan. His works have been performed at the most important contemporary music festivals such as Olympia International Festival (Athens), Esoterics Spectra Festival (Seattle), ALEA III Contemporary Music Festival (Boston), Contemporary Brass Festival (Sacramento), Grenoble Institute, Naples Contemporary Music Festival, Assisi Festival, British Music Information Center, Electroacustic Music Festival (Stockholm & Uttersberg), Edinburgh University Contemporary Music Festival, Sweden Vaxjo Media Artes Festival, Rome Ensemble Musica Oggi, Gorizia Festival, Sofia Musica Nova, Rome Festival Nuova Consonanza, Milano Triennale.
He has worked as film, ballet and theatre/stage music composer. He has given Computer Music masterclasses in Copenhagen, Amsterdam, Olso, Stockholm, Geneva, Losanne, Zurich, Abu Dhabi, New Delhi, Dubai, New York, Jerusalem, Tel Aviv, Wien, Brno, Prague, Helsinki, Budapest, Manchester, London, Leeds, Birmingham, Frankfurt, Dusseldorf, Poznan, Bogotà, and Bruxelles.
Paolo graduated in Composition, Organ, Electronic Music, and Choral Conducting. He holds a PhD in Composition at the Accademia Santa Cecilia of Rome. He also studied Computer Science and worked for a very long time as a consultant, starting with IBM in 1996 .
As theorist and journalist he has published more than 120 articles about computer music programming, mathematics, music theory, film music, music notations, and music analysis. He has published several books for Ricordi, DeAgostini, Berben, Rugginenti, Volontè, Curci, Davinci-Edition. His book, Semiography and Semiology of Contemporary Music (ISBN: 9788876656163) can be found on Amazon.
---
Diego Ricchiuti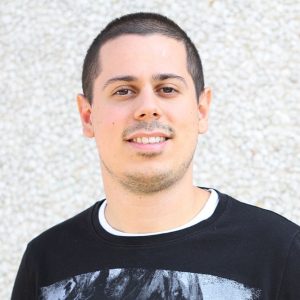 Diego is Co-founder and Creative Director of Affinity Project, an independent video game developer based in Milan. With Affinity Project, he has developed Don-Ay, the first donation game ever made. He is Professor of Game Design at the Italian Video games Academy (AIV) in Rome, where he is the Head of the Game Design department.
From 2014 to 2017, he worked at Ubisoft on the Game Design of Ghost Recon Wildlands, also creating the AI behaviour behind game vehicles, AI Vs AI, and AI Vs Player. He works as Game Designer & Pipeline Director for Techland studios, Wroclaw, Poland, where he is responsible for several game features with particular regard to the fun factor, player engagement, and general ratings.
His education includes a degree in IT Digital Communication at the Bocconi University of Milan and a bachelor degree in Interactive Media Design at the University of Suffolk, UK, where he graduated with honor.
---
mdi ensemble (Recording artists)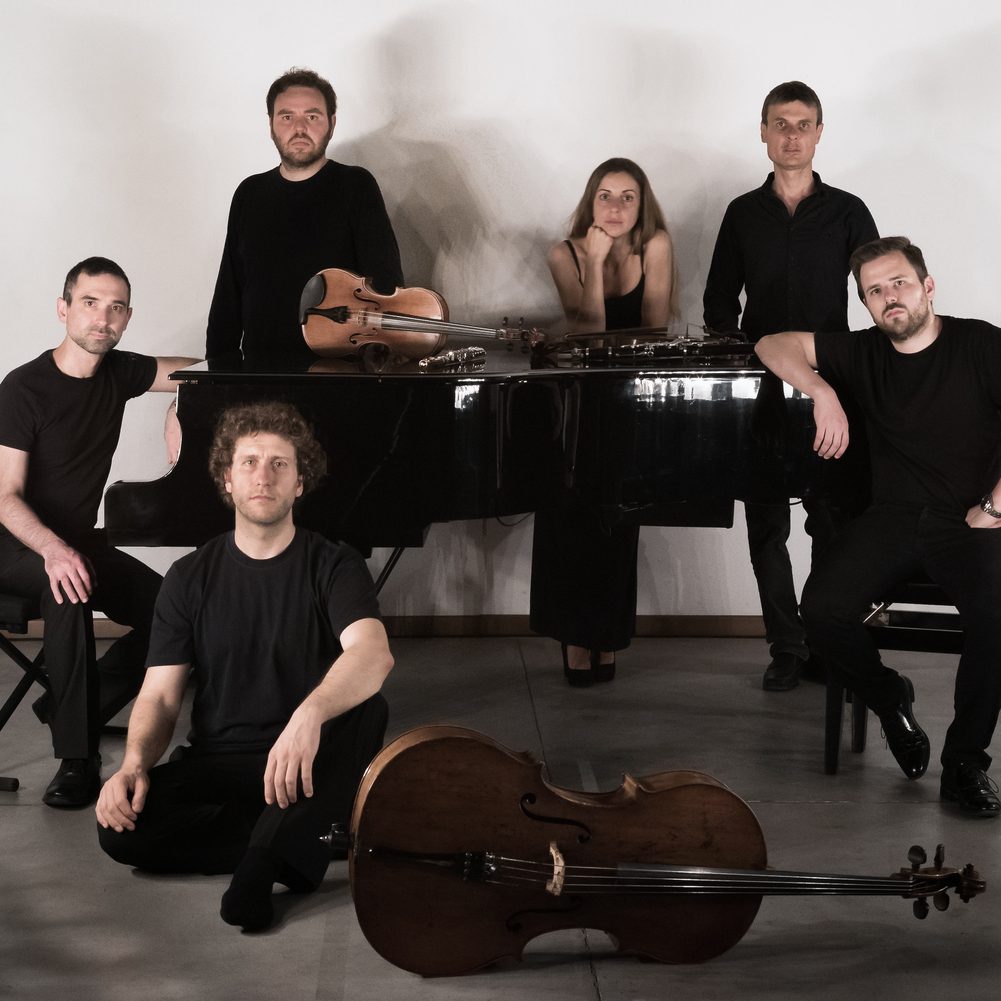 mdi ensemble was formed in Milan in 2002 and has been artist-in residence at festival di Milano Musica from 2012 to 2017. Since the beginning, the ensemble collaborates with composers such as Helmut Lachenmann, Salvatore Sciarrino, Gérard Pesson, Marco Stroppa, Stefano Gervasoni, Sofia Gubaidulina, Unsuk Chin.
The ensemble regularly appears at some of the most relevant Italian festivals, such as MiTo Settembre Musica, Venice Biennale, Società del Quartetto di Milano, Ravenna Festival, Festival dei Due Mondi, Festival Transart. Described from the Los Angeles Times as "astonishingly competent", mdi ensemble performs throughout Europe and overseas, notably at Festival Présences de Radio France in Paris, Tonhalle in Dusseldorf, SWR Stuttgart, Festival Jeunesse in Vienna, SMC in Lausanne, Los Angeles County Museum of Arts, Chelsea Music Festival in New York City and the Italian Institute in Tokyo.
The ensemble also frequently collaborates with eminent conductors such as Stefan Asbury, Beat Furrer, Emilio Pomarico and Pierre-André Valade. Since 2016, mdi ensemble has been curating two concert series in Milan (Sound of Wander) and Florence (Contrasti). mdi ensemble's discography includes monographic CDs dedicated to composers such as Stefano Gervasoni, which has been awarded by Academy Charles Cros the prestigious Coup de Coeur – Musique contemporaine 2009, Misato Mochizuki, Giovanni Verrando, Sylvano Bussotti, Marco Momi, Emanuele Casale, Mauro Lanza, Simone Movio. Their DVD See the Sound – Homage to Helmut Lachenmann was broadcasted by Rai 5 and Sky Classica.
---
Paolo Fosso (Program Director)
Composer and Event Manager. CEO of Merry-Go-Sound, dedicated to promoting contemporary music and digital awareness by featuring a range of events throughout the year. The company produces the highSCORE Festival and the Screen Music Program. President of the Conservatory of Pavia from 2010 to 2013. Selected by the European Commission in Brussels as Expert both in the MEDIA and in the Culture programs.
Global Head of Contents at Campus Party, the greatest technological experience of the world. He studied Computer Science at the University of Milan and Composition at the Conservatory of Milan. As a passionate Entrepreneur, he invests in marketing and technology. Recipient of the Ivano Becchi Professional Award endowed by the Banca del Monte di Lombardia Foundation and the Talent of Ideas prize by UniCredit Bank.
Keyboardist and composer for the rock band Armonite.