Jeff Broadbent
Jeff Broadbent is a Hollywood Music In Media Award-winning and Global Music Award-winning composer whose passion for music and sound has found expression with blockbuster games such as PLANETSIDE 2, TRANSFORMERS: DARK OF THE MOON, LEGO LEGENDS OF CHIMA ONLINE, I AM ALIVE, ASSASSIN'S CREED IDENTITY. Broadbent has composed music for many of the leading game studios in the world including Sony Online Entertainment, Electronic Arts, Ubisoft, Warner Bros, NetEase, Activision and THQ. He has composed feature film scores, production and trailer music for Warner Chappell, Universal, and Position Music, as well as music featured on prime-time television for networks including CBS, MSNBC, the Discovery Channel, National Geographic, VH1 and more.
Jeff's music has been featured in major film trailers including JACK RYAN: SHADOW RECRUIT, X-MEN: DAYS OF FUTURE PAST, THE LAZARUS EFFECT. And in prime-time television shows and specials including THE CURSE OF OAK ISLAND and MARVEL: ASSEMBLING A UNIVERSE, as well as promos for leading television series including MARVEL: AGENTS OF SHIELD, NCIS, HAWAII FIVE-O, ELEMENTARY, SCORPION, and BLUE BLOODS.
Jeff's music has been used in music videos and commercials featuring Grammy-nominated artists Fabolous and T.I., as well as advertising for Jaguar, Nvidia, and Volkswagen. Jeff has won five Hollywood Music In Media Awards, a Game Audio Network Guild Award, seven Global Music Awards, a Telly Award, two ASCAP Plus Awards, and has been a finalist for the NAVGTR, Game Music Online, Radio Rivendell, and Soundtrack Geek awards.
Jeff's stirring and dynamic music features a collection of orchestral, choral, ethnic, atmospheric, and unique synthetic elements that engage the listener on a deeply emotional level. With the ability to produce realistic electronic mockups or large scale works for live performers, Jeff's musical abilities can serve a variety of projects and budgets. As a sound designer, Jeff's abilities and extensive sound effects library make him a great choice for your sound design needs.
---
Alison Plante

Alison is an award-winning composer whose scoring credits range from documentaries for PBS and the History Channel to national television ads, independent films, multimedia museum exhibits, and live theater. She is Chair of the Film Scoring Department at Berklee College of Music.
Her scoring credits include seven educational television series for the Annenberg Channel; History Channel specials Bible Battles and Aftershock: Beyond the Civil War; documentary feature American Meat; national TV spots, trailers, and corporate identity music for Duracell, Kodak, Sodexho, Spalding Sports, W.B. Mason, GMAC, Animal Planet, the National Geographic Channel, and the Pan Mass Challenge, among others.
Other credits include live action and animated shorts, theater (with a speciality in puppetry), and multimedia museum installations for the Smithsonian Institution and the Harvard Museum of Natural History.
---
Clint Bajakian
Clint Bajakian is a composer, producer, and manager of video game music with credits on over 200 titles since 1991. Recipient of the 2013 Lifetime Achievement Award from the Game Audio Network Guild, Bajakian has been dedicated to the advancement of video game audio and advocacy for its professionals, innovating adaptive scoring methods in workflow, project management, team leadership, and education.
In 2012, Square Enix bestowed Bajakian an Award for Special Achievement, recognizing him as "one of driving forces in evolution of VG music." In the following year Bajakian received the Distinguished Alumni Award from the New England Conservatory of Music. From 2004-2013, he led the music production team at Sony PlayStation, developing methodology, managing projects, and supervising soundtracks with leading orchestras throughout the world, including God of War and Uncharted franchises.
From 2000-2004, Bajakian managed his own company Bay Area Sound, producing the original score for LucasArts' Indiana Jones and The Emperor's Tomb receiving G.A.N.G.'s Music of the Year. Throughout the 90s, he co-led LucasArts Entertainment's audio department in composition and sound design on such properties as Star Wars, Indiana Jones, Outlaws (original score won Outstanding Achievement Award from Computer Gaming World magazine), Grim Fandango, and Monkey Island.
In 2014, Bajakian composed for Blizzard Entertainment's World of Warcraft: Warlords of Draenor, which won the HMMA award for Best Video Game Soundtrack. After two years with Pyramind Studios in original music and team development, in 2015 Bajakian joined the San Francisco Conservatory of Music faculty in the Technology and Applied Composition department, and entered business as an independent composer. Bajakian holds a double Bachelor of Music degree from the New England Conservatory in Guitar Performance and Music Theory, and a Master of Music degree in Music Composition from The University of Michigan. Clint resides in the San Francisco Bay Area with his wife, Deniz, and two children, Lara and Deren.
---
Paolo Tortiglione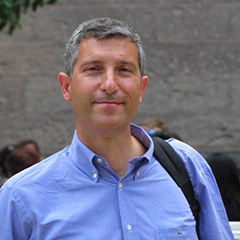 Paolo Tortiglione is Professor of Film Music and Applied Technology at the Conservatory of Milan. His works have been performed at the most important contemporary music festivals such as Olympia International Festival (Athens), Esoterics Spectra Festival (Seattle), ALEA III Contemporary Music Festival (Boston), Contemporary Brass Festival (Sacramento), Grenoble Institute, Naples Contemporary Music Festival, Assisi Festival, British Music Information Center, Electroacustic Music Festival (Stockholm & Uttersberg), Edinburgh University Contemporary Music Festival, Sweden Vaxjo Media Artes Festival, Rome Ensemble Musica Oggi, Gorizia Festival, Sofia Musica Nova, Rome Festival Nuova Consonanza, Milano Triennale.
He has worked as film, ballet and theatre/stage music composer. He has given Computer Music masterclasses in Copenhagen, Amsterdam, Olso, Stockholm, Geneva, Losanne, Zurich, Abu Dhabi, New Delhi, Dubai, New York, Jerusalem, Tel Aviv, Wien, Brno, Prague, Helsinki, Budapest, Manchester, London, Leeds, Birmingham, Frankfurt, Dusseldorf, Poznan, Bogotà, and Bruxelles.
Paolo graduated in Composition, Organ, Electronic Music, and Choral Conducting. He holds a PhD in Composition at the Accademia Santa Cecilia of Rome. He also studied Computer Science and worked for a very long time as a consultant, starting with IBM in 1996 .
As theorist and journalist he has published more than 120 articles about computer music programming, mathematics, music theory, film music, music notations, and music analysis. He has published several books for Ricordi, DeAgostini, Berben, Rugginenti, Volontè, Curci, Davinci-Edition. His book, Semiography and Semiology of Contemporary Music (ISBN: 9788876656163) can be found on Amazon.
---
Diego Ricchiuti
Diego is Co-founder and Creative Director of Affinity Project, an independent video game developer based in Milan. With Affinity Project, he has developed Don-Ay, the first donation game ever made. He is Professor of Game Design at the Italian Video games Academy (AIV) in Rome, where he is the Head of the Game Design department.
From 2014 to 2017, he worked at Ubisoft on the Game Design of Ghost Recon Wildlands, also creating the AI behaviour behind game vehicles, AI Vs AI, and AI Vs Player. He works as Game Designer & Pipeline Director for Techland studios, Wroclaw, Poland, where he is responsible for several game features with particular regard to the fun factor, player engagement, and general ratings.
His education includes a degree in IT Digital Communication at the Bocconi University of Milan and a bachelor degree in Interactive Media Design at the University of Suffolk, UK, where he graduated with honor.
---
Paolo Fosso (Program Director)
Composer and computer scientist. CEO of Merry-Go-Sound, dedicated to promoting contemporary music by featuring a range of events throughout the year. The company produces the highSCORE Festival and the Screen Music Program. President of the "F. Vittadini" Conservatory of Pavia from 2010 to 2013. Selected by the European Commission in Brussels as Expert both in the MEDIA and in the Culture programs.
Global Head of Contents at Campus Party, the greatest technological experience of the world. As a passionate Entrepreneur, he invests in marketing and technology. Recipient of the "Ivano Becchi" Professional Award endowed by the Banca del Monte di Lombardia Foundation.
Keyboardist and composer for the rock band Armonite.